Whether you're trying to sell your first book or your fortieth, the road to publication is never an easy one to navigate. Let Liberty States Fiction Writers guide your way. A multi-genre organization, the Liberty States Fiction Writers is dedicated to the education and support of all fiction writers. We provide workshops, networking events and promotional opportunities to aid both published and yet-to-be published writers.
Welcome to the Liberty States Fiction Writers!
November is right around the corner – and so is the Liberty States Fiction Writers November 8th meeting at the Edison Public Library!
RHODA BELLEZZA
3-ACT STORY STRUCTURE
Join Rhoda Belleza, Associate Editor at Paper Lantern Lit, for a special workshop on 3-Act Story Structure!
Okay, so you have a brilliant idea. Awesome! Now all you need is another 280+ pages and you're ready to roll! No problem, right?
Wrong.
Now you need to figure out how to plan, plot, maintain tension – and the dozens of other craft techniques and nuances that can drive even the most seasoned writer crazy. Don't despair.
 The 3-Act Story Structure can help!
 Thinking of a book in terms of its three acts can help you determine whether your book has enough action; it can also help you decide where the action should go. It's a way to experiment with your ideas, to tease out the issues, and brainstorm more content.
 Figure out how to make your story more exciting and urgent: something an editor or agent can't put down! Don't miss November's 3-Act Story Structure Workshop with Rhoda Belleza!
---
BIO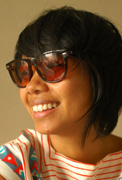 Rhoda Belleza received her BA in English and Communications from the University of California, Santa Barbara. Post-graduation, she wandered up and down the West Coast, stopping in almost every city along the way. Fortunately, none of them fit quite right. She finally found a home in Brooklyn – where she lives, breathes, and eats fiction. She's the editor of Cornered: 14 Stories of Bullying and Defiance, and her work has appeared on the rumpus.net. Before becoming an associate editor at Paper Lantern Lit, she was a copywriter, barista, shuttle driver, and writing instructor.
About Paper Lantern Literary:
Founded by publishing phenoms Lexa Hilyer (editor of many New York Times bestselling authors at HarperCollins and at Razorbill – an imprint of Penguin) and Lauren Oliver (Award-winning and New York Times Bestselling author of the Delirium trilogy and the YA novel, Before I Fall), Paper Lantern Literary has produced several bestselling authors in a short time. Neither publisher nor agency, Paper Lantern Lit is a literary incubator and development company, seeking out the very best talent with which to work – cultivating both ideas as well as talent voices. Ideas are developed in-house, and it's up to the writing talent to make it their own. From there, projects are pitched to publishers. So far, sales success is 100%!  For more information, go to: http://www.paperlanternlit.com – and join us for the Roundtable after the presentation!
---
ROUNDTABLE:
Paper Lantern Lit: Who, What, Why, How?
Rhoda Belleza will give us the lowdown on Paper Lantern Literary: what it is, how they work, and how you might be the next voice. Ask questions, get answers. Go to: http://www.paperlanternlit.com/ for an overview of PLL – and how you might be a PLL perfect fit! Only four years old, Paper Lantern Lit has been profiled in PW, Fast Company, Bloomberg Businessweek and on Deadline Hollywood. You won't want to miss Rhoda's info download on literary incubator, Paper Lantern Lit!
CRITIQUE:
If you'd like to have your first few pages of your latest work-in-progress critiqued by a published author and fellow writers, bring at least five copies of the first three pages. (Pending published author volunteer)
FEATURED AUTHORS:
AM (before the presentation)
LOIS WINSTON

USA Today bestselling author Lois Winston straddles two worlds. She's an award-winning author of mystery, romance, romantic suspense, humorous women's fiction, children's chapter books, and non-fiction under her own name and as Emma Carlyle. She's also an award-winning designer of needlework and crafts projects for magazines, craft book publishers, and craft kit manufacturers. Like Anastasia, the protagonist in her Anastasia Pollack Crafting Mystery series, Lois worked for several years as a crafts editor. A graduate of the prestigious Tyler School of Art, she often draws on her art and design background for much of the source material in her fiction.
Lois will be selling and signing her latest books – Just in time for the holidays and gift-giving!
Bake, Love, Write: 105 Authors Share Dessert Recipes and Advice on Love and Writing, edited by Lois Winston
Recipes. Writing. Relationships. In this decadent dessert cookbook, 105 authors not only share their favorite recipes for fabulous cakes, pies, cookies, candy, and more, they also share the best advice they've ever received on writing and relationships. Many LSFW author members dish and delight in this cookbook: Lois Winston Caridad Pineiro, Irene Peterson, Shelley Noble, Kathy Quick, Karen Bryan, and Lisa Verge Higgins.
The Magic Paintbrush
A children's chapter book for 8-10 year olds
Without being preachy, The Magic Paintbrush addresses the issue of differences, in this case, a kingdom that is all pink at war with a kingdom that is all blue for longer than anyone can remember–so long that no one even knows what started the feud. It takes two children from another land to point out to the rulers of both kingdoms how we're really all the same inside and the benefits to getting along.
Definitely Dead (Book One in the Empty Nest Mystery series)
An homage to Dashell Hammet's Thin Man movies with a modern day spin on Nick and Nora Charles
When her career is outsourced to Asia, fledgling romance author and empty-nester Gracie Elliott wants a job that will allow her time to write. So she opens Relatively Speaking, becoming a wing woman to the senior set. Since her clients need several hours each morning to find their teeth, lube their creaky joints, and deal with lower GI necessities (and they always turn in after the early bird specials), she has plenty of time to pen her future bestsellers.
Gracie deliberately avoids mentioning her new business venture to husband Blake until after she signs her first client. Blake joins the company as a not-so-silent partner, tagging along to make sure Gracie doesn't cause a septuagenarian uprising. When Client #13 is found murdered in the parking lot behind the Moose Lodge, Gracie knows, no matter how much Blake protests otherwise, she can't wait around for the police to find the killer if she wants to save her livelihood
For more information, please go to: http://www.loiswinston.com and http://www.anastasiapollack.blogspot.com
---
Author Spotlights
If you are an LSF Writers member with an upcoming release and would like to be a featured author, please e-mail us using the contact form in the Members Only section.
New Releases
As a reminder, if you are a LSF Writer Member and have a 2013 and/or 2014 release, please send your cover and a short book blurb to contact@lsfwriters.com. If you are a Published Author, please send your photo and a short bio to contact@lsfwriters.com so we may prepare our 2012 Author Spotlights.
The Liberty States Fiction Writers welcome pre-published writers at all levels as well as e-published, small press and traditionally published authors.