Whether you're trying to sell your first book or your fortieth, the road to publication is never an easy one to navigate. Let Liberty States Fiction Writers guide your way. A multi-genre organization, the Liberty States Fiction Writers is dedicated to the education and support of all fiction writers. We provide workshops, networking events and promotional opportunities to aid both published and yet-to-be published writers.
Welcome to the Liberty States Fiction Writers!
September 13 Meeting
L'AURA HLADIK HOFFMAN
PARANORMAL INVESTIGATION 101: Research, Reality and Writing It Right
As autumn chill tickles the edges of summer, time turns toward longer nights – and the things that haunt the dark.
Join us on Saturday, September 13 at the Edison Public Library (on Plainfield Ave.) at 10:45 am (SPECIAL TIME!) for a super-spooky presentation with paranormal investigator, lecturer and author L'Aura Hladik Hoffman  –  founder of the New Jersey Ghost Hunters Society!
If you write paranormal romance, supernatural suspense, horror, mystery, or include any sort of ghost hunting and paranormal investigation elements in your work, don't miss L'Aura's  multi-media presentation:
Introduction to Paranormal Investigating.
Don't know the difference between orbs and ectoplasm? Confused about EVPs, EMFs and ESP?  Don't fear (well, maybe just a little). With L'Aura's Paranormal 101 primer, you'll learn the lingo, the basics in protocol and documentation, and how to "write it real" and write it right for your work-in-progress. L'Aura also has in store:  genuine, eerie EVPs – and the "do's and don'ts" of capturing spirit voices; review of equipment used in paranormal investigations; ghost photography – and much more!
So if you need a crash course in ghosts, paranormal investigation and how to weave the science in with the supernatural, don't miss this meeting!
Following the presentation, L'Aura will be selling and signing her books, "Ghosthunting New York City" and "Ghosthunting New Jersey."
---
BIO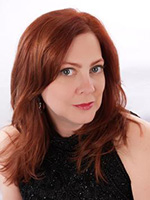 L'Aura Hladik Hoffman founded the NJ Ghost Hunters Society in 1998 – and it's still the largest organization of its kind in the state. L'Aura is a paranormal investigator, lecturer, and author, appearing on numerous television shows, as a guest on a variety of radio and internet shows and featured in newspapers, magazines and ezines. L'Aura has investigated hundreds of sites, from the infamously haunted Myrtles Plantation to Philadelphia's Eastern State Penitentiary to Ireland's Leap Castle.
For more information about L'Aura, the New Jersey Ghost Hunters Society, being certified as a Paranormal Investigator, ghost hunts, presentations and more, go to: www.njghs.net
---
ROUNDTABLE:
September's roundtable features Charity Piñiero in a hands-on follow-up to July's workshop:  WORDPRESS WEBSITE DIY.  Bring your laptops and let's see the progress on your websites and work through any challenges or questions. Take control of your online presence!
CRITIQUE:
If you'd like to have your first few pages of your latest work-in-progress critiqued by a published author and fellow writers, bring at least five copies of the first three pages. (Pending published author volunteer)
FEATURED AUTHORS:
AM (before the presentation)
Caridad Piñiero
NY Times and USA Today Bestseller Caridad Piñiero, author of over 40 novels/novellas. A Jersey Girl who just wants to write travel, and spend more time with family and friends, she also loves romance novels, super heroes, TV and cooking. Caridad will be selling and signing copies of VAMPIRE REBORN and JUST ONE NIGHT, her two latest releases.
For more information, go to: http://www.caridad.com/
E.F. Watkins
Award-winning mystery and suspense author E.F. Watkins will be selling and signing the first two books in her psychic amateur sleuth series, the Quinn Matthews Haunting Mysteries, DARK MUSIC and HEX, DEATH & ROCK 'N' ROLL.
For more information, go to:  http://www.efwatkins.com/
PM (after the presentation)
L'Aura Hladik Hoffman
Paranormal investigator, lecturer, author, and founder of NJ Ghost Hunters Society, L'Aura Hladik Hoffman will be selling and signing her books, "Ghosthunting New York City" and "Ghosthunting New Jersey" after her Paranormal Investigation 101 presentation.
For more information, go to:  www.njghs.net
---
Author Spotlights
If you are an LSF Writers member with an upcoming release and would like to be a featured author, please e-mail us using the contact form in the Members Only section.
New Releases
As a reminder, if you are a LSF Writer Member and have a 2013 and/or 2014 release, please send your cover and a short book blurb to contact@lsfwriters.com. If you are a Published Author, please send your photo and a short bio to contact@lsfwriters.com so we may prepare our 2012 Author Spotlights.
The Liberty States Fiction Writers welcome pre-published writers at all levels as well as e-published, small press and traditionally published authors.