Whether you're trying to sell your first book or your fortieth, the road to publication is never an easy one to navigate. Let Liberty States Fiction Writers guide your way. A multi-genre organization, the Liberty States Fiction Writers is dedicated to the education and support of all fiction writers. We provide workshops, networking events and promotional opportunities to aid both published and yet-to-be published writers.
Welcome to the Liberty States Fiction Writers!
SATURDAY, FEBRUARY 13, 2016
Beyond Spell Check: Self-Editing Before Submission
You've finished writing a novel. Now what? Before sending your work out into the world, there is a final critical step: self-editing. Editors and agents don't expect your novel to be perfect, but if you can show that you've put work into submitting a clean and reasonably error-free manuscript, you have a better chance of catching their attention. And editing isn't just for beginners—we've all found simple mistakes in the works of even the most prolific authors. Be sure you're sending in your best book! Kate McMurray is a published author and professional editor who will walk you through a few editing tips and tricks to help you polish your novel until it shines.
FEATURED SPEAKER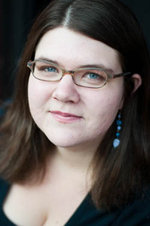 Kate McMurray is an award-winning romance author and an unabashed romance fan. When she's not writing, she works as a nonfiction editor, dabbles in various crafts, and is maybe a tiny bit obsessed with baseball. She lives in Brooklyn, NY.
---
ROUND TABLE SESSION
Pitching
Will your pitch appointment at the Create Something Magical Conference be your first? Have you had appointments before, but would still like some help polishing that pitch? Join author Caridad Pineiro to craft a pitch that will intrigue an editor or agent and make them want to learn more about your book.
---
Have Questions? Click here to contact us.
---
Author Spotlights
If you are an LSF Writers member with an upcoming release and would like to be a featured author, please e-mail us using the contact form in the Members Only section.
New Releases
As a reminder, if you are a LSF Writer Member and have a 2014 and/or 2015 release, please send your cover and a short book blurb to contact@lsfwriters.com. If you are a Published Author, please send your photo and a short bio to contact@lsfwriters.com so we may prepare our 2015 Author Spotlights.
The Liberty States Fiction Writers welcome pre-published writers at all levels as well as e-published, small press and traditionally published authors.